NR60CP Colorimeter
Details
NR60CP cost-effective colorimeter has the advantages of high accuracy, powerful function and precise measurement which are warmly welcomed by customers.
Color Measurement Is So Easy
Product Features
           1.     Switchable 8mm and 4mm measuring apertures, easy to measure concave surface.
           2.     Higher measurement stability and accuracy, Delta E ab<0.03.
           3.     More color spaces, various color indexes, extensive applicability.
           4.     Double locating: illuminating locating and cross locating
           5.     Configured with high-capacity rechargeable Li-ion battery
           6.     Built-in white plate parameters and physical white calibration board, easy to operate;
           7.     New integrating sphere optical path design, more stable measurement;
           8.     Measurement data can pass national metrology authentication.
Application Industry
NR60CP spectrophotometer is widely used in plastic, electronic, paint, ink, textile, garment, printing and dyeing, food, medical, cosmetic, industries, scientific research institutes, schools and laboratories. It can precisely measure kinds of color indexes in various color spaces and easy to use with powerful functions. The instrument is equipped with high-end color management software which can connect to PC to achieve more extension functions.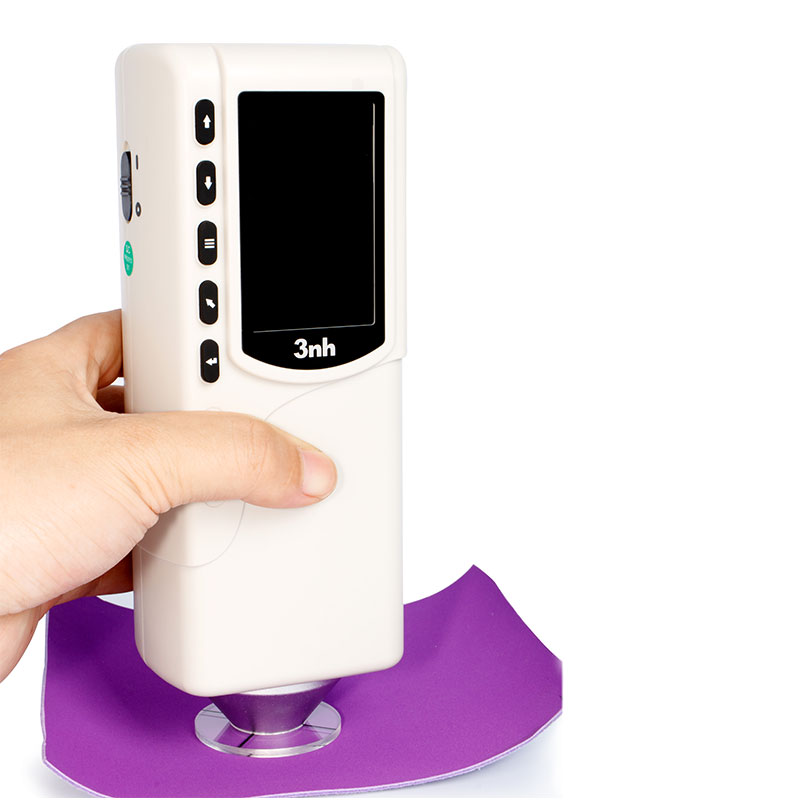 Specification Parameters
Illuminating/Viewing Geometry: 8°/ d
Light Source: LED Light
Sensor: silicon photodiode array
Measuring aperture:  Φ8mmflat aperture; Φ4mmtip aperture
Color Space:CI E L AB,XYZ,LCh,CI E RGB,CI E LUV
Color Difference Formula: ΔE* ab, ΔE( h) , ΔE* uv,ΔE* 94, ΔE*cmc ( 2: 1) , ΔE*cmc ( 1: 1) , ΔE* 00
Other Chromaticity Data:  WI ( E313,CI E, AATCC,Hunt er ),YI ( D1925,313),Color Fastness,  Staining Fastness, J PC79,BFD( 1. 5: 1),FMCI I
Observer: CI E 10°
Illuminant:  D65,A,C,D50,F2,F6,F7,F8,F10,F11,F12
Display Data: Colorimetric Value, Color Difference Value/Graph, PASS/FAIL Result, Color Offset,
Measuring Time: 0. 4s
Repeatability: ΔE* ab 0. 03 (Average of 30 measurements of standard white plate within 5s)
Errors between each instrument: within Delta E*ab 0.2  
Dimension: 205*67*80mm
Battery: rechargeable lithium-ion battery 3. 7V @ 3200mAh
Lamp Life: 5 years, more than 1.6 million measurements
Screen: TFT 2.8 inch(16: 9)
Interface: USB/ RS- 232
Storage: 100 Standards, 20000 Samples
Operating Temperature:0~40℃(32~104°F)
Storage temperature:-20~50℃(-4~122°F)
PC software: CQCS3 software
Optional accessory: miniature thermal printer, powder test box