TS8216 Benchtop Spectrophotometer
Details
The benchtop spectrophotometer TS8216 is a spectrophotometer developed by 3nh using its own core technology of spectroscopy. It uses a dual-array CMOS image sensor with higher sensitivity and a wider spectral response range, and the test is more accurate. The repeatability ΔE*ab of the TS8216 benchtop spectrophotometer is easily controlled within 0.01, and the inter-instrument errorΔE*ab is controlled within 0.12. The data is stable and reliable, and can be used for accurate color analysis and transmission in the laboratory.
 
Features of TS8216 Benchtop Spectrophotometer
1. Micropore aperture
TS8216 benchtop spectrophotometer provides reflection: Φ0.3mm/Φ0.5mm/Φ1mm (only choose one aperture) Transmission: Φ8mm/Φ4mm (only choose one aperture), used for small area reflection samples and small volume transmission samples chromaticity control.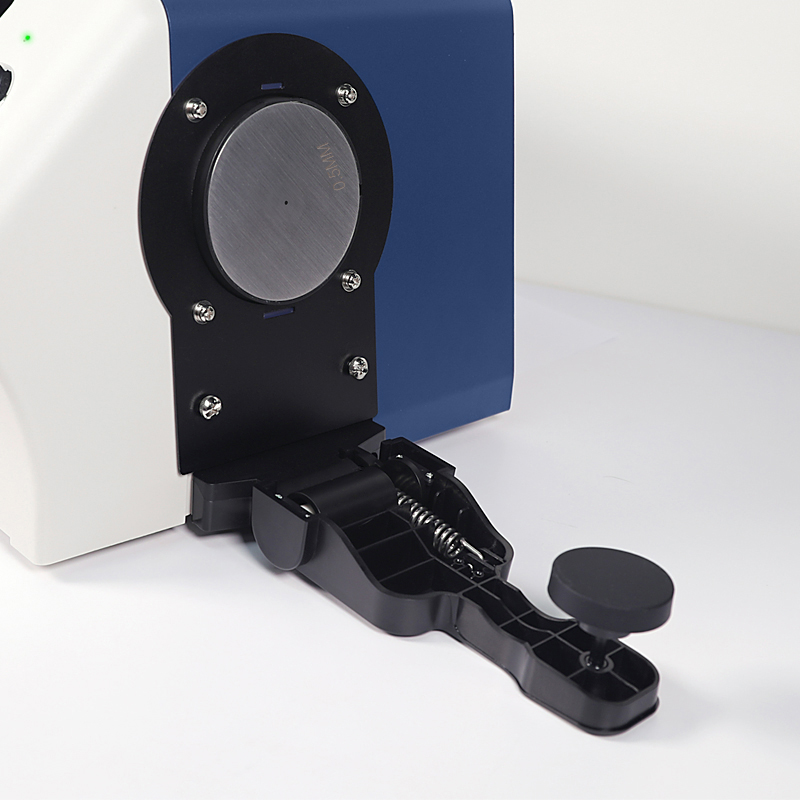 2. It adopts the internationally-used D/8 structure, compatible with SCI/SCE measurement, and supports SCI+SCE rapid measurement at the same time
The TS8216 benchtop spectrophotometer adopts the internationally applicable D/8 illumination observation conditions, SCI/SCE (including specular reflection/not including specular reflection) synthesis technology, and supports SCI+SCE simultaneous rapid measurement.
3. Dual array CMOS image sensor
With high sensitivity and wide spectral response range, it ensures the measurement speed, accuracy, stability and consistency of the instrument.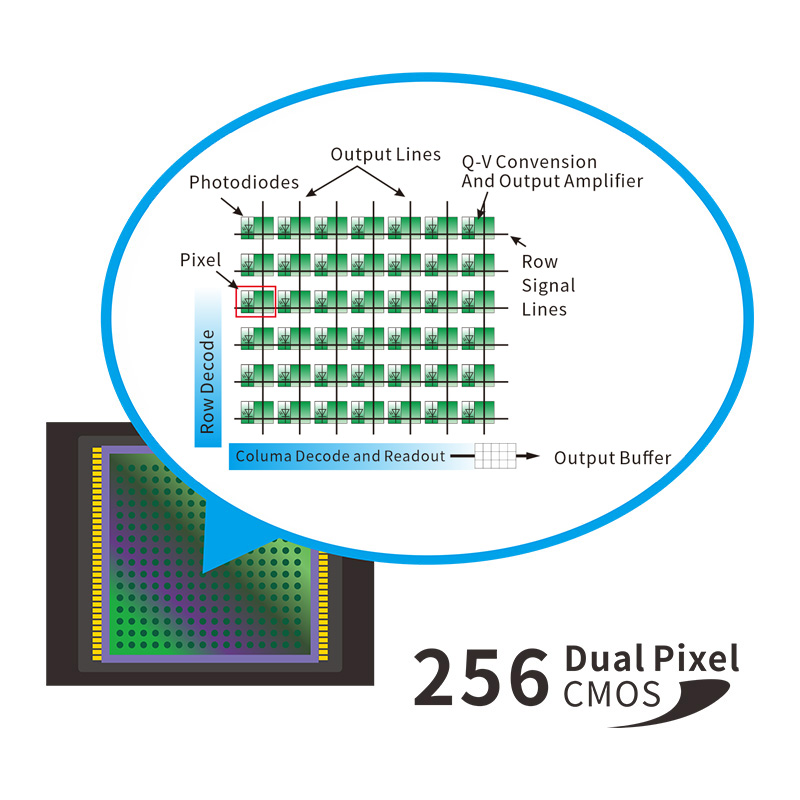 4. Multiple color measurement spaces, multiple observation light sources
TS8216 benchtop spectrophotometer provides CIE LAB, XYZ, Yxy, LCh, CIE LUV, Musell, s-RGB, HunterLab, βxy, DIN Lab99 color space, as well as D65,A,C,D50,D55,D75,F1,F2,F3,F4,F5,F6,F7,F8,F9,F10,F11,F12,CWF,DLF,TL83,TL84,TPL5,U30 multiple observation light sources, which can meet the special measurement requirements under different measurement conditions.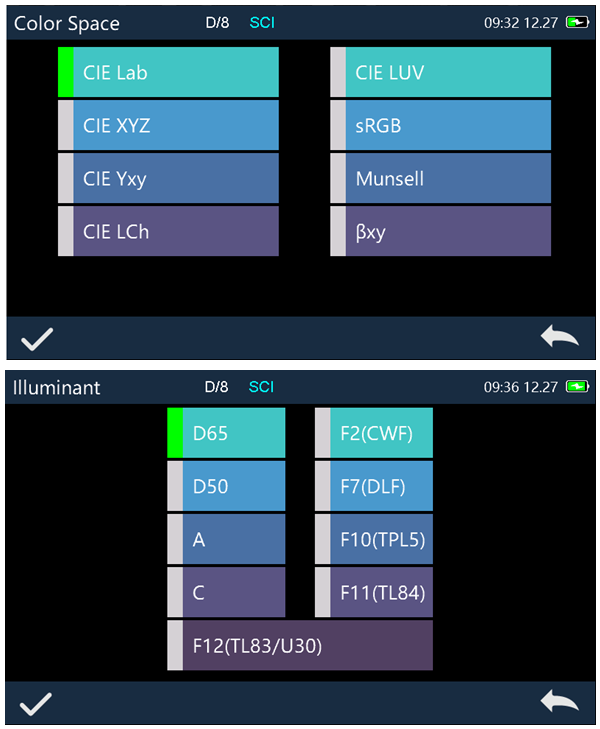 5. Adopt a combined full-spectrum LED light source and UV light source
The full-band balanced LED light source ensures sufficient spectral distribution in the visible light range, avoids the lack of spectrum of white light LEDs in specific wavelength bands, and ensures the measurement speed of the instrument and the accuracy of the measurement results. Professional UV light sources ensure UV testing more reliable.

6. Metrological verification report
Each TS8216 benchtop spectrophotometer has been verified and tested, and the instrument is verified according to the measurement standards of the authoritative verification department at the factory, and the measurement data is traced to the National Institute of Metrology to ensure the authority of the instrument test data.
7. Industrial-grade high-definition touch screen, easy-to-use user interface
Using a 7-inch industrial-grade high-definition touch screen, the control is smooth, and the easy-to-use user interface makes the operation comfortable, convenient and easier to use.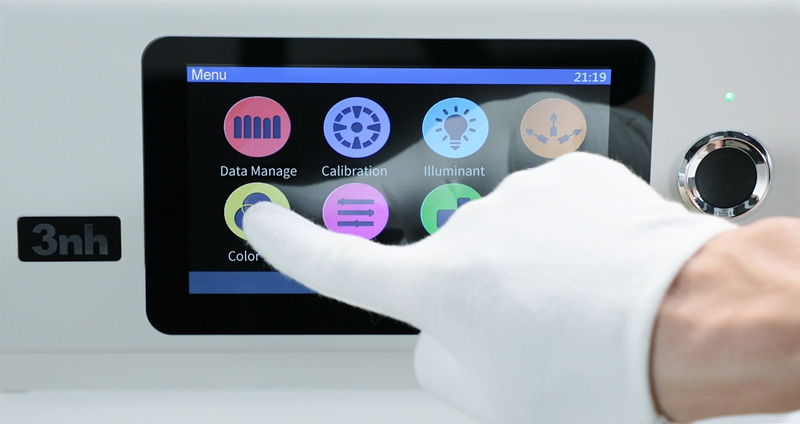 8. Color management software
The SQCX quality management software matched with the TS8216 benchtop spectrophotometer is suitable for quality monitoring and color data management in various industries. Data the user's color management, compare color differences, generate test reports, provide a variety of color space measurement data, and customize customer color management.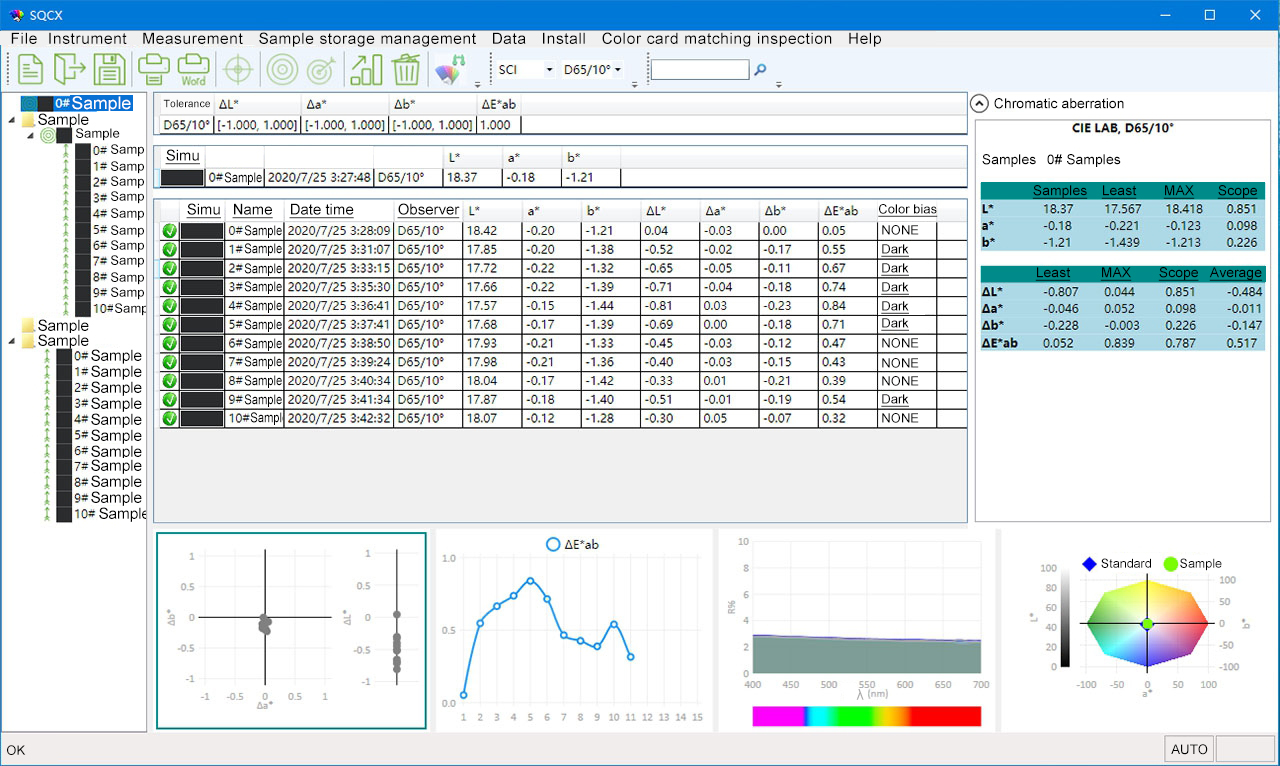 Technical Parameters of TS8216 Benchtop Spectrophotometer
| | |
| --- | --- |
| Model | TS8216 |
| Optical Geometry | Reflect: di:8°, de:8°((diffuse illumination, 8°direction reception) ; |
|   | SCI (specular component included)/SCE (specular component excluded) ;Include UV/exclud UV |
|   | Transmittance: di:0°, de:0° (diffuse illumination: 0°direction reception) ; |
|   | SCI (specular component included)/SCE (specular component excluded) ; Include UV/exclud UV |
|   | Haze(ASTM D1003), |
|   | Conforms to CIE No.15,GB/T 3978,GB 2893,GB/T 18833,ISO7724/1,ASTM E1164,DIN5033 Teil7 |
| Application | It is used for the color control of small-area reflective samples and small-volume transmission samples. |
| Integrating Sphere Size | Φ154mm |
| Light Source | 360 nm to 780 nm, Combined LED Light, 400nm cut-off light source,420nm cut-off light source |
| Spectrophotometric Mode | Concave Grating |
| Sensor | 256 Image Element Double Array CMOS Image Sensor |
| Wavelength Range | 360-780nm |
| Wavelength Interval | 10nm |
| Semiband Width | 5nm |
| Measured Reflectance Range | 0-200% |
| Measuring Aperture | Reflective : Φ0.3mm/Φ0.5mm/Φ1mm (only choose one aperture) |
|   | Transmissive : Φ8mm/Φ4mm (only choose one aperture) |
| Specular Component | Reflectance: SCI/SCE, Transmittance: SCI/SCE |
| Color Space | CIE LAB,XYZ,Yxy,LCh,CIE LUV,Musell,s-RGB,HunterLab,βxy,DIN Lab99 |
| Color Difference Formula | ΔE*ab,ΔE*uv,ΔE*94,ΔE*cmc(2:1),ΔE*cmc(1:1),ΔE*00, DINΔE99,ΔE(Hunter) |
| Other Colorimetric Index | WI (ASTM E313, CIE/ISO, AATCC, Hunter), |
|   | YI (ASTM D1925, ASTM 313), |
|   | Metamerism index Mt, |
|   | Staining Fastness, Color Fastness, Color Strength, Opacity, |
|   | APHA/Hazen/Pt-Co (Platinum Cobalt Index), Gardner Index |
|   | 8° gloss, 555 color classification, haze (ASTM D1003), Saybolt (Sybert index), ASTM D1500 color scale, Chinese Pharmacopoeia color scale |
| Observer Angle | 2°/10° |
| Illuminant | D65,A,C,D50,D55,D75,F1,F2,F3,F4,F5,F6,F7,F8,F9,F10,F11,F12,CWF,DLF,TL83,TL84,TPL5,U30 |
| Displayed Data | Spectrogram/Values, Samples Chromaticity Values, Color Difference Values/Graph, PASS/FAIL Result, Color Offset |
| Measuring Time | About 2.4s (Measure SCI & SCE about 5s) |
| Repeatability | Spectral reflectance: Φ1mm/SCI, Standard deviation within 0.08% |
|   | Chromaticity value:Φ1mm/SCI, Standard deviation within ΔE*ab 0.15 (After the instrument is warmed up and calibrated, measure the average value of the whiteboard 30 times at an interval of 5s) |
|   | Spectral transmittance: Φ8mm/SCI, Standard deviation within 0.1% |
|   | Chromaticity value:Φ8mm/SCI, Standard deviation within ΔE*ab 0.18(After the instrument is warmed up and calibrated, measure the average value of the whiteboard 30 times at an interval of 5s) |
| Inter-instrument Error | Φ1mm/SCI, Within ΔE*ab 0.25(Measured average value of 12 tiles of BCRA series Ⅱ) |
| Dimension | L*W*H=370x300x200mm |
| Weight | Approx. 9.6kg |
| Power | AC 24V, 3A Power adapter power supply |
| Illuminant Life Span | 5 years, more than 3 million times measurements |
| Display | 7-inch TFT color LCD, Capacitive Touch Screen |
| Data Port | USB, Bluetooth®5.0, print serial port |
| Data Storage | Standard 5000 Pcs, Sample 40000 Pcs(SCI/SCE counts as one piece of data) |
| Language | Simplified Chinese, Traditional Chinese, English, (German, French, Spanish can be customized) |
| Operating Environment | 0~40℃(32~104°F) |
| Storage Environment | -20~50℃(-4~122°F) |
| Standard Accessory | Power adapter, manual, quality management software (download from official website), data cable, standard calibration board, black calibration box, transmission black baffle, sample holder, single reflection aperture, transmission test fixture assembly, single transmission test fixture assembly |
| Optional Accessory | Mini printer, instrument upside down test fixture, petri dish |
| Notes | The specifications are subject to change without notice. |