ST1818 array spectrometer
Details
ST1818 is a new portable spectrophotometer with 3nh own core research and development technology,Built-in large area silicon photodiode array (double row 18 groups) sensors, with excellent repeatability and inter-station differences, measuring data continued stable, accurate and reliable. The repeatability ΔE * AB of the array spectrometer ST1818 is easily controlled within 0.038, and the Inter-instrument Error ΔE * AB is controlled within 0.38. The measurement is accurate and can be used for accurate color analysis and transmission in the laboratory.
ST1818 array spectrometer with Φ8MM/φ10mm platform + Φ8MM/φ10mm sharp tip two measuring aperture, no matter the sample surface is regular flat or curved radian, can easily measure and get reliable and good repeatability data, in plastic electronics, paint coating, textile printing and dyeing, printing paper products, automotive, medical, cosmetics and food industries, scientific research institutions, laboratories are widely used.
 
Characteristics of the array spectrometer ST1818
1. Silicon photodiode array (18 double-row) sensors
The larger array sensor, the stronger light will not be saturated, the lower light sensitivity is higher and the wider spectrum response range, has guaranteed the instrument measurement speed, the accuracy, the stability and the consistency, grasps the core technology, with the same platform of international standards, achieve perfect compatibility.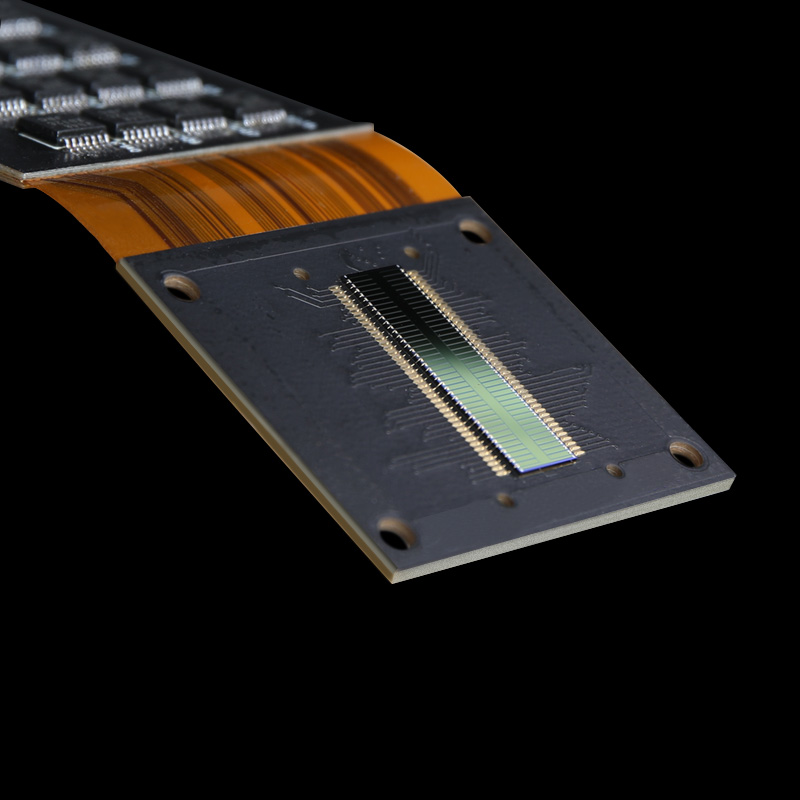 2、Adopt full waveband balanced LED light source
The array spectrometer ST1818 adopts 400 ~ 700nm full waveband balanced LED light source as the illumination light source, which has enough spectrum distribution in the visible light range and avoids the loss of the spectrum of white LED in the specific wave band。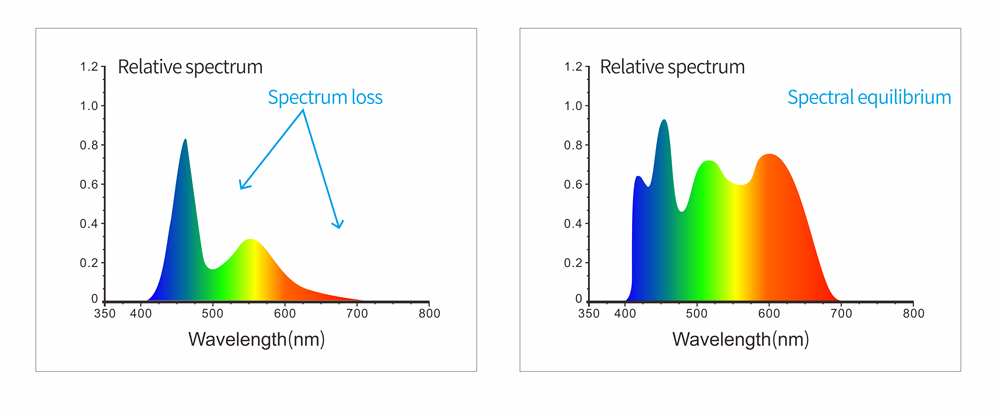 3、Grating splitting technology
The use of plane grating spectroscopy technology, with a higher resolution, so that more accurate color measurement.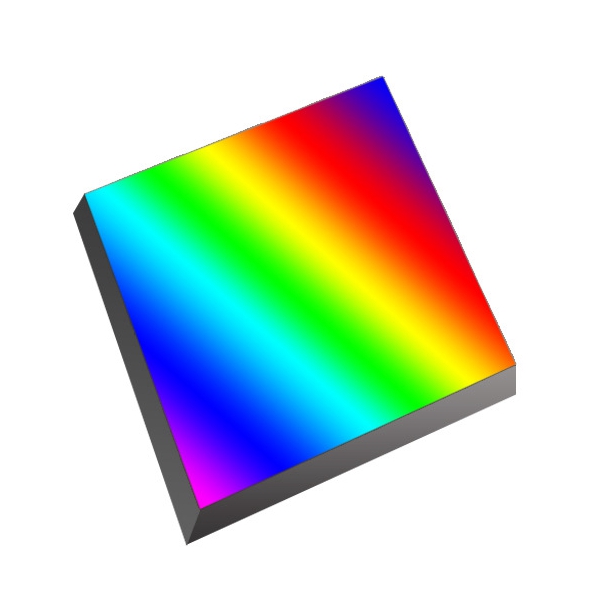 4、Intelligent base, automatic calibration
 It is equipped with intelligent calibration base, can carry out automatic white board calibration, professional grade standard white board reflectivity R% ≥95% , good surface uniformity, high stability, can obtain repeated accurate data.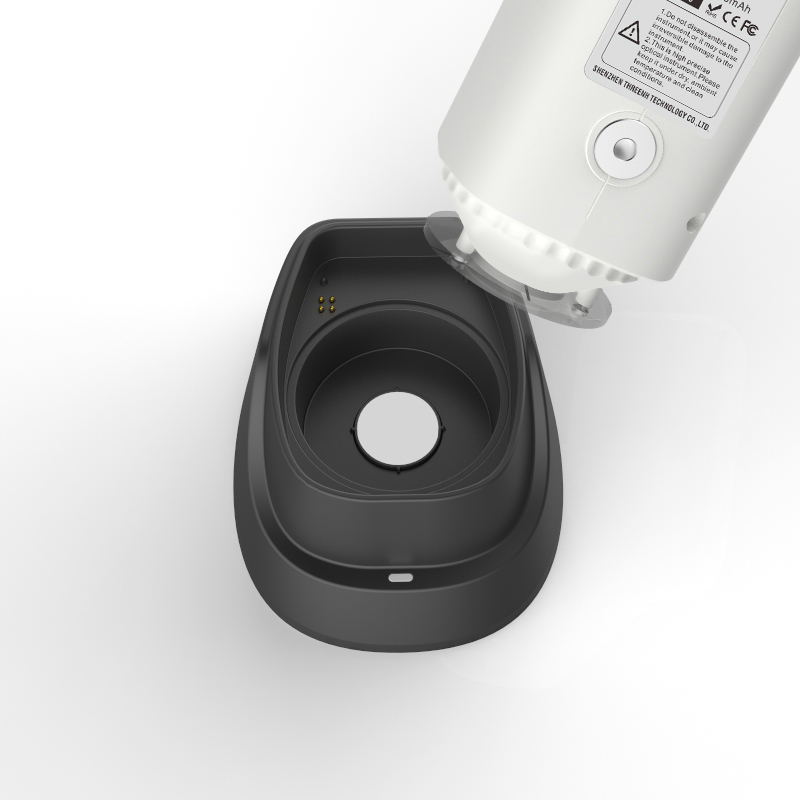 5、New fashion appearance design based on ergonomics
The hand-held position and the position of the measuring button are carefully designed to meet different holding habits, smooth and fine surface, derived from the professional appearance treatment technology.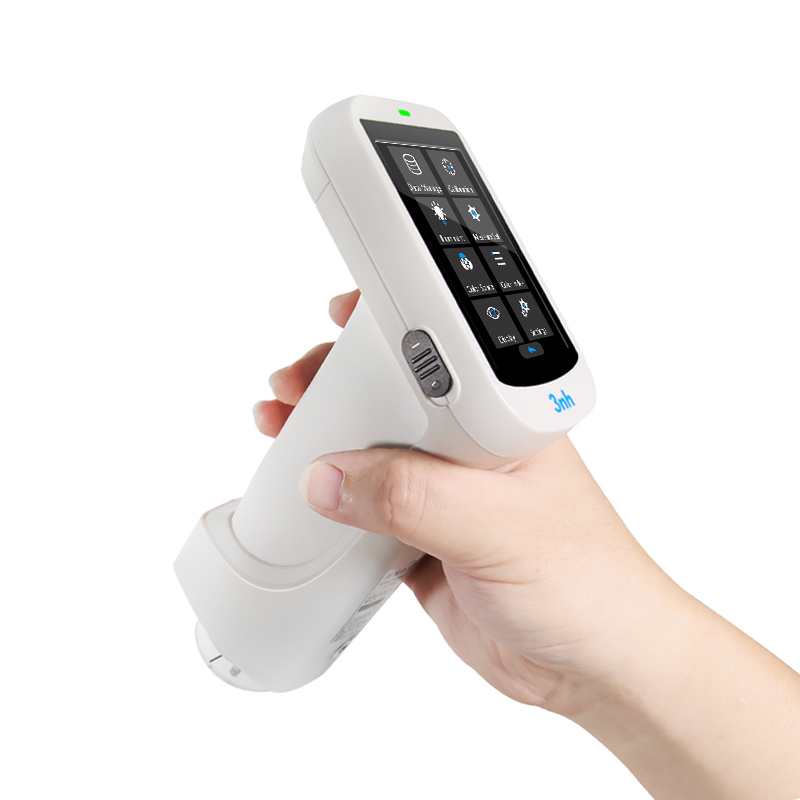 6、Excellent interstation and repeatability
The repeatability ΔE * ab ≤0.038, the Inter-instrument Error ΔE * AB ≤0.38 data is stable and reliable, which ensures the consistency of the data measured by multiple devices, and can be used for color matching and accurate color transfer.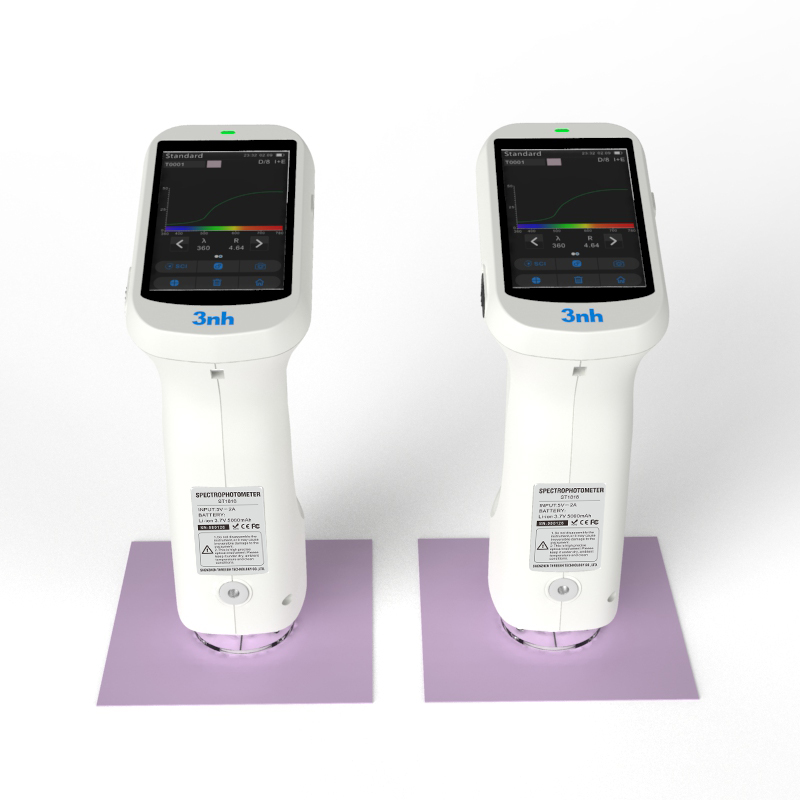 7、Multi-color measurement space and observation light source
Provide CIE LAB, XYZ, Yxy, LCH, Cie Luv, s-RGB, HunterLab, βxy, DIN Lab99 Munsell (C/2) color space, and a variety of observation light sources
A, B, C, D50, D55, D65, D75, F 1, f 2, F 3, F 4, F 5, F 6, F 7, F 8, F 9, F10, F11, F12, CWF, U30, U35, DLF, NBF, TL83, TL84, ID50, ID65, LED-B1, LED-B2, LED-B3, LED-B4, LED-B5, LED-B6, LED-BH1, LED-RGB1, LED-V1, LED-V2, LED-V3, customizable light source, it can meet the special measuring requirements under different measuring conditions.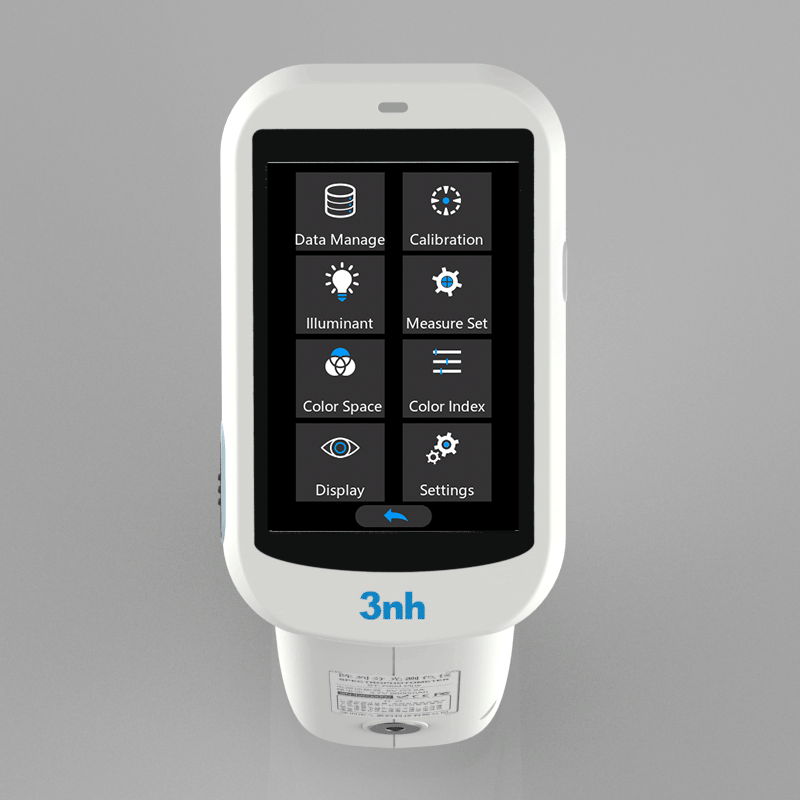 8、Double light path system is more stable in color measurement
Double optical path system, when the environment changes, to ensure that the measurement data more stable and accurate.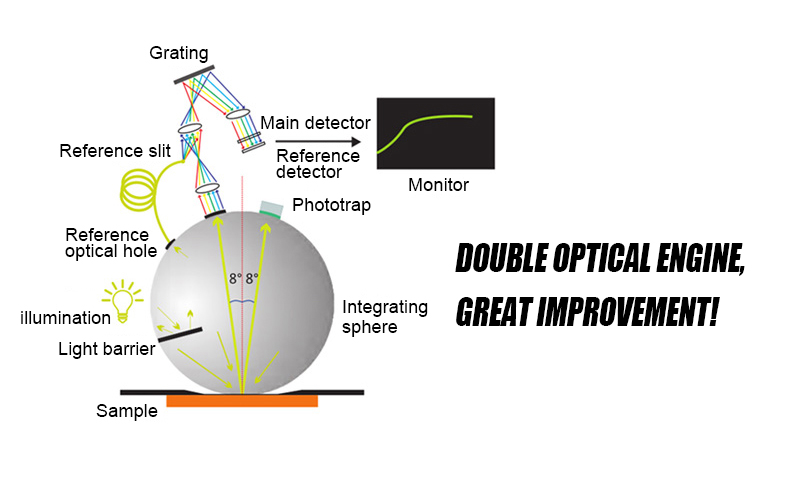 9、Color management software
The array spectrometer ST1818 is equipped with SQCX software, which is suitable for quality monitoring and color data management in various industries. The user's color management data, compare color differences, generate test reports, provide a variety of color space measurement data, customized customer color management.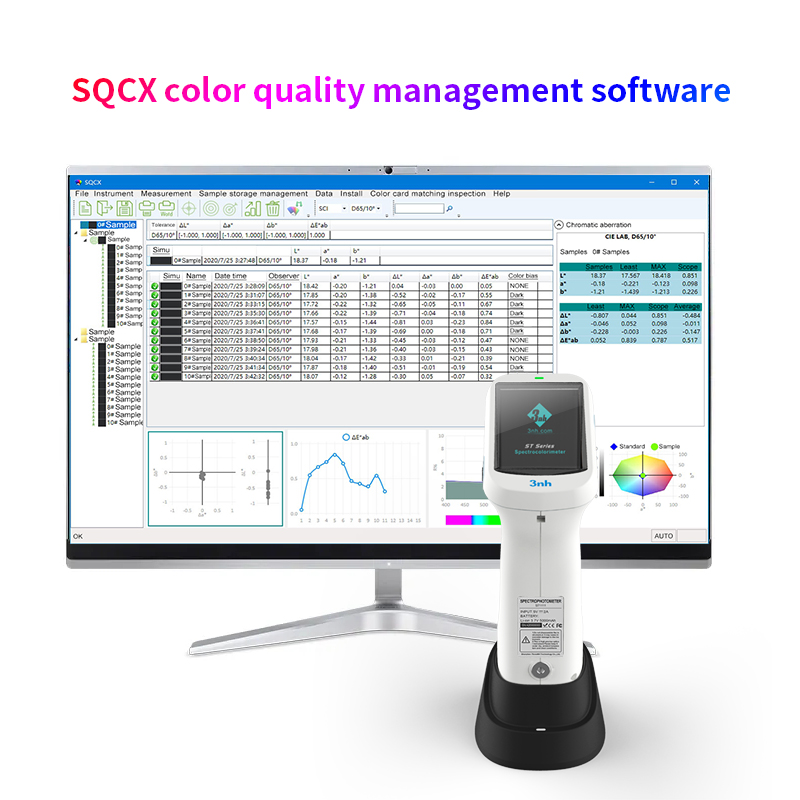 ST1818 technical parameters of the array spectrometer
 Product name
ST1818 array spectrophotometer
Optical Geometry
D/8(diffused illumination, 8-degree viewing angle)
Specular Component
SCI Including the specular reflection of light
Meet The Criteria
CIE NO.15,GB/T 3978,GB 2893,GB/T 18833,ISO7724-1,ASTM E1164,DIN5033 Teil7
Repeatability*
ΔE*ab≤0.038
Inter-instrument Error**
ΔE*ab≤0.38
Displayed Accuracy
0.01
Measuring/Illuminating Aperture***


Single Aperture:Φ8MM/φ10mm platform

Measurement Indicators
Spectral reflectivity, CIE-Lab, CIE-LCh, HunteLab, CIE-Luv, XYZ, Yxy, RGB, chromatic aberration (ΔE * ab, ΔE * CMC, ΔE * 94, ΔE * 00) , whiteness (ASTM E313-00, ASTM E313-73, CIE/ISO, AATCC, Hunter, Taube Berger Stensby) , yellows (ASTM D1925, ASTM E313-00, ASTM E313-73) , blackness (My, DM) , staining fastness, colour changing fastness, tint (ASTM E313-00) , color density CMYK (A, T, E, M) , isochromism index Milm, Munsell, hiding power, force fraction (dye strength, coloring power)
Illuminant
A,B,C,D50,D55,D65,D75,F1,F2,F3,F4,F5,F6,F7,F8,F9,F10,F11,F12,CWF,U30,U35,DLF,NBF,TL83,TL84,ID50,ID65,LED-B1,LED-B2,LED-B3,LED-B4,LED-B5,LED-B6,LED-BH1,LED-RGB1,LED-V1,LED-V2,LED-V3,Customisable light sources
Displayed Data
Spectrogram/Values, Samples Chromaticity Values, Color Difference Values/Graph, PASS/FAIL Result, Color Simulation, Color Offset
Light Source
Combined full spectrum LED light source
Locating Method
Stability film, visual
Calibration
Intelligent automatic calibration (Contact Type)
Accuracy Assurance
Grade I metrological qualification
Observer Angle
2°,10°
Integrating Sphere Size
40mm
Spectrophotometric Mode
Flat Grating
Sensors
Large-area silicon photodiode array (18 double-row sets)
Wavelength Interval
10nm
Wavelength Range
400-700mm(The user can view 31 wavelengths of reflectivity)
Measured Reflectance Range
0-200%
Reflectivity resolution
0.01%
Measurement Mode
Single Measurement, Average Measurement(2-99times)
Measuring Time
About 3.2s
Size
 L * W * H=114 X 70 X 208mm
Weight
 About 435g(Calibration block not included)
Battery
Li-ion battery, 8500 measurements within 8 hours
Illuminant Life Span
10 years, more than 1.5 million times measurements
Display
3.5-inch TFT color LCD, Capacitive Touch Screen
Data Port
USB
Data Shorage
Standard 500 Pcs, Sample 10000 Pcs, Mass storage on PC side
Software Support
Windows
Language
Simplified Chinese, English, Traditional Chinese
Operating Environment
0~40℃, 0~85%RH (no condensing), Altitude < 2000m
Storage Environment
 -20~50℃, 0~85%RH (no condensing)
Standard Accessory
Power Adapter, USB Cable, User Guide, PC Software(Download from office website), White and Black Calibration Cavity, Protective Cover, Wrist strap, 8mm flat aperture,  4mm tip aperture
Optional Accessory
USB Micro Printer, Powder Test Box
Notes:
* 30 standard deviations of the whiteboard were measured at a 5-second interval after whiteboard calibration;
** BCRA Series II 12-panel measurement average; 
*** The illumination aperture is the actual aperture size of the instrument;
If there are any changes to the above parameters, without prior notice.